(Última actualización: 20 November, 2019)
Copenhagen…
this city, which in spite of the cold, is full of life, with numerous museums, streets with shops, bars, restaurants, artistic streets, a modern gastronomic, literary and artistic culture.
What used to be a small Viking fishing village, now Copenhagen is the big city and capital of Denmark, and according to many the most beautiful Nordic capital.
Copenhagen is the combination of new and old, a compact, quiet and orderly city. Open to the sea and with numerous canals, Copenhagen is a friendly city with a pedestrian centre for strolling, walking or cycling.
Some data to emphasize:
Copenhagen means "Port of Merchants"
Dianamarca still has a royal family
Almost everyone speaks perfect English
Almost 2 million of the country's 6 million people live in Copenhagen
Denmark is said to be the least corrupt country in the world
It's a very safe city day and night. You can walk alone at any time
Copenhagen is known as the "Paris of the North", for its architecture, design and gastronomy.
Copenhagen is on the island of Zealand, although not many travelers realize they are on an island. Zealand is connected by several bridges. In addition, a further 250 small islands make up the country of Denmark. It is easily reached by land by car and train through the bridge.
Let's tour Copenhagen together!
[Knocks]
Prepare your trip to Copenhagen
When it's best to go. Weather
Although it may seem, it is not so cold in winter as the country is crossed by the warm Gulf Stream, so there are no extreme temperatures. This also happens in Iceland.
In summer (July and August) it is not usually very cold, but around 20°C. August is the high season and, due to the better weather, everything is more expensive and you will find more people.
---
---
The best month, is in the middle season, May, June or September, there are not as many people, and the climate is relatively.
January, February and early March are the coldest months. Also with the constant wind that enters all sides of Denmark, as it is a flat country (the highest point of the country are 170 meters).
December is the darkest month, getting dark before 15-16 hours.
How much time is needed
Copenhagen can be seen quite well in about 3 days. A weekend getaway is ideal.
If you want to explore the surroundings, party or experience the city more closely, you should at least have a couple of more days.
Many excursions can be made from Copenhagen, so if you have more time you can plan many things Here are some of them.
Budget and Prices
One of the most expensive countries in Europe. The standard of living is high or very high. Searching in advance you can find flights and accommodations at reasonable prices, not cheap!
Meal: 100 crowns (~13€) Pizza, pasta or hamburger-type fast food with drink. 120-150 Crowns (16-20€) an economic dinner in a restaurant or 200 -500 Crowns (26-65€) in a good restaurant.
Beer: 45- 60 Crowns (~6-8€)
Night in Hotel in Booking: 120€
Bed in Hostal: 35-45€
Apartment Airbnb: (whole) 110-130 € (private room) 70-90 € (private room)
The currency is the Danish Krone which plus or minus 1€ is 7.5 Crowns (or 1$ to 6.5 Crowns)
There is no need to withdraw money or change Crowns, as everything can be paid for with a card. FreeTour can be paid in euros.
… and to save a little
Book your accommodation well in advance
CouchSurfing Beam
Travel in the middle season avoiding the high season in the summer
If you're going to drink enough, consider buying alcohol at the airport Duty Free
Where to Sleep. Accommodation
Of the 4 nights we were in Copenhagen, we slept 2 in an Airbnb apartment. It was 120€ per night.
See all offers from Booking in Copenhagen or HostelWorld
Últimamente la opción de 
AirBnB está tomando mucha fuerza en Europa
. Muchas veces siendo mejor opción si se viaja
2 o más personas y más de 1 noche
. Si no lo conoces, aquí comento las 
ventajas e incovenientes
. En general cuestan algo menos que los hoteles de 
Booking
,
y tienes un apartamento con cocina y sofá
(que se agradece mucha después de caminar durante todo el día).
Ábrete una cuenta de Airbnb
y
aprovéchate del 10% de descuento
en tu primera reserva! Nota importante: cuando ya hayas usado tu descuento,
podrás hacerte otra cuenta
a nombre de tu hermano, madre, padre, abuelos, amigo, familiar, etc y seguir disfrutando del descuento!
Did you know…?
Copenhagen…
A very livable city
For example, according to the English magazine Monocle, in 2013 and 2014 Copenhagen was the best city in the world to live in, although in 2017 it fell to sixth place.
Why is that
? Good wages, little unemployment, few working hours (6 hours a day), social protection, a safe city, liberal and progressive ideas, protection of the rights of children and women, redistribution and universality of resources, good pension system, social assistance and subsidies, 6 months of maternity, etc.
How do they do it
? Paying a lot of taxes. The average tax is 46% of wages. The Danish citizen is, in general, very supportive. In addition, society is very united and the government is trusted.
The City of Bicycles
You'll find a lot of bikes everywhere. It is said that there are more than just people in Copenhagen. In addition, the more than 400 km of bicycle lanes show that the government promotes this means of transport.
The fact: 62% of people in Copenhagen move by bike to go to school or work. All over the city you can see many bike lanes and entire families on bicycles.
To visit the city renting a bicycle is a very good idea Below I explain how we did it.
The Great Danish Empire
Denmark was a very powerful country:
Greenland is still part of Denmark.
Iceland belonged under Danish administration until 1918.
The Faeroe Islands are under the administration of the crown, but not of the country since 1946, in fact Danish is spoken.
Did you know the Nordic Hygge philosophy?
Neither do I… The "hygge" philosophy is the art of enjoying small things. This is extrapolated to interior decoration. Since you have to be home long enough, creating a comforting environment is important.
The decoration is mainly places with blankets, many cushions, comfortable places, with several light bulbs and something dark, candles to create atmosphere, animal skins, many cushions, and so on. In short, to create cozy places to enjoy the long winters.
What to see and do: The 6 Basics
A route through Copenhagen can start at the town hall square. Most of the attractions are close to the main square and can be explored on foot (or by bicycle).
Freetour in English
Shall we start in Copenhagen with a FreeTour? Yes!!!! I think it's the best way to get into the city.
2 companies carry out the Freetour:
phoe-icon name="fa-arrow-right"] Copenhagen FreeWalkingTours (Green umbrella)
Basic tour: Every day 10h and 11h (15h in English) in the stairs of the town hall (Rådhuspladsen). Three hours.
Alternative tour Christiania: Everyday 16h in Højbro Plads. 1,5 hours.
Classic Tour: Thursdays and Sundays (Every day in English) 13:30 in Højbro Plads. 1,5 hours.
Pub Crawl: Thursday, Friday, Saturday at 20h at the black anchor in Nyhavn. 150 DKK
[phoe-icon name="fa-arrow-right"] Sandemans (Red Umbrella)
Basic tour: 10h, 11h and 14h at the foot of the

Dragon Fountain in the Town Hall Square

(Rådhuspladse)
Pub Crawl: Thursdays, Fridays and Saturdays at 20:30

Fuente del Dragón. 18€
Which company is better?
We did the Chritiania tour with the green umbrella company and the basic one with the red umbrella company. I think experience depends a lot on the guide. But generally speaking, in the red tour they try to sell you a lot of other tours, discounts, tickets, register you, etc. Green seems more honest and direct.
City Hall Square (Rudhuspladsen)
In this central square starts the Freetour and the famous Strøget Street. The town hall building is inspired by the Siena building, in the national romantic style. What are the bears doing on the roof? The bears represent Greenland, which is still part of Denmark.
When we went there (September 2018) the works of the subway were still there and a large part of the square was fenced. This is scheduled to last until July 2019. So the square is a little ugly and unfriendly…
The astronomical clock "World Clock" by J. Olens is located inside the town hall. It is the most accurate mechanical watch in the world (only surpassed by atomic ones). One of his gears takes 25,000 years to turn a full circle. It can be seen inside the town hall (free) by entering on the right.
Strøget Street
What they say is the longest pedestrian street in Europe is the busiest and liveliest street in the city. Although the beginning is not very glamorous: Between a 7 Eleven and a BurriKing, but it is worth it.
It goes from the town hall to the square square of Kongens Nytorv. They really are like several streets come together, to make a total of just over 1 kilometer.
Nyhavn (new port)
It's the most famous channel in the city. The typical postcard of Copenhagen that we have seen so much with the typical colorful houses of the seventeenth century.
It is the typical busy place, where there are hundreds of people looking for the perfect photograph (or selfie), tourist groups, Japanese with photos, etc etc. etc.
At first it was a fishermen's quarter with not very good fame, but was reformed over time until today, which is a fairly touristic place, but very nice.
Tivoli Amusement Park
It's the oldest amusement park in Europe with about 170 years. The park was built in the mid-19th century (1843), as they wanted to distract the people from thinking about politics (Roman style with the "bread and circus" or in Spain with football, right?).
One of Copenhagen's most visited tourist attractions, not just for children. Large concerts are also held, or it's just for dinner or a walk. It's downtown, near the central station.
I liked it because the local people go there a lot. They have their season tickets and they go there like the one who goes to the park for a walk. In total about 4 million visitors a year mostly Danish and Nordic.
The nighttime lighting is quite cozy and pretty, so going to mid-afternoon for dinner and being at night is a good idea. Christmas is full of colors and lights, but we went in September 🙁
Timetable from 11 am to 11 pm (or 24 hours on weekends) More info and prices (adults 120 Crowns ~16€)
The Little Mermaid
The Little Mermaid is the icon of Copenhagen, and therefore the most famous sculpture in Denmark. It has been in the port looking at the sea for more than 100 years, surrounded by many tourists… and being very well photographed.
It's very small, especially if you've seen it in pictures, people are often disappointed. He's about 1.25 meters tall. In 2010 the Little Mermaid was travelling in China during the Expo, where she was inside the Denmark pavilion for 6 months.
Why is there a Little Mermaid in Copenhagen?
The Disney film is based on the tale of the Danish writer Han Cristian Andersen. The owner of Carlsberg gave it to the city in 1913.
Since then it has suffered many acts of vandalism, so now they have placed it somewhat more withdrawn, so that it is not so easily accessible.
The free city of Christiania (Christianshavn)
This neighbourhood is a special and different place in Copenhagen. It is a self-managed neighborhood in which about 1,000 people live including about 200 children.
It was founded in the 1970s with the hippie heyday of the time. People moved in and occupied the old military barracks that had been empty since the 1960s. Afterwards, the independence of the Danish state was declared and a free and egalitarian society was created where the assembly is governed.
Since 1979 is a free city, the Free City of Christiania. It is now a foundation, which purchased the entire area from the state through collections, and finished paying installments in 2017.
In Christiania there is no private property, only houses can be rented. Christiania is an interesting social experience. Society functions through the exchange of goods and services.
When you enter, a sign tells you that you are entering a new country, it actually still belongs to Denmark, but it is allowed.
You can't go in cars, just bikes. In this neighborhood they make "cargo bikes" to carry children or big things. They're very famous in Denmark.
Inside there are several bars and restaurants, in comparison much cheaper than in Copenhagen, almost half.
During the first years everything was anarchy, now there are 9 basic rules:
No hard drugs (Yes others like marijuana or hashish)
No to private property
No weapons
No private cars
Don't run
No fireworks
No firecrackers
No colors bikers
Do not use bulletproof vests
No stolen items
Christiania and drugs:
There is a tacit agreement with the government whereby drugs are allowed to be sold and consumed. For the usual theme that if they are thrown out, it is not that they will stop selling or people will stop consuming. And more will spread to other neighborhoods or even the entire city. There they live together in peace and harmony.
Being a free society, all kinds of drugs were consumed from the beginning. Drugs of all kinds were consumed, although with the years they realized that some hard drugs did not do good to many people, reason why it was decided to allow only the "soft" drugs: the marijuana and the hashish.
A small street is where all the drug business is concentrated. Christmas Street. There, drugs are traded without cover. Sometimes they are hooded so that the police don't identify them in case someone takes pictures, which are forbidden there. Don't take out your camera or cell phone or you'll get in trouble!
More things to see in Copenhagen
Meet Hans Christian Andersen
He's the Danish writer par excellence. He was born in Odensee and then moved to Copenhagen.
He wrote novels and many stories, for example the Ugly Duckling, the Leaded Soldier, the Little Mermaid or the Match Vendor. He was also a great traveler and wrote many stories and travel guides.
In fact, he is credited with the phrase "Travelling is Living".
You can visit his apartment-museum. It is in the centre, in the town hall square at the beginning of Stroget Street (Rådhuspladsen 57). The entrance fee is 60 crowns (~8€)
Boat trip along the canals
To see everything from the channels: The mermaid, the opera, the Royal Palace, the new library, etc. It starts from the Nyhavn and it's 85 crowns (~12€).
A cheaper alternative is to take the public boat-bus. The ticket is included in the day pass or can be purchased individually on board.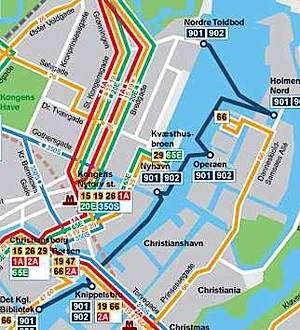 The Danish Parliament: Christiansborg Palace
This building is newly renovated. The tower can be visited for free to enjoy its wonderful panoramic view of Copenhagen. It is one of the 3 viewpoints that the city has, next to the round tower and the church of El Salvador.
To climb the tower you have to surround the building and follow the yellow signs to enter from behind. There you queue up and then go through an airport type metal detector. Yes, you have to take off your belt! How I hate that… I was even considering not going upstairs.
After the first elevator you arrive at a hall where you can see how the tower was built. We also find a restaurant (not cheap by the way) Then we climb another elevator and climb another flight of stairs with marble sculptures to finally get up.
Kastellet Fortress
It's a star-shaped military fort surrounded by water. Its construction dates from 1626, although it does not look so old as it has been reforming continuously. It is currently used as a park and historical monument.
It is very close to the Little Mermaid, and a visit is advisable even if it is in transit, especially in good weather.
The New Opera
From one of the great Danish architects, Henning Larsen. It was recently built and inaugurated in 2005. Technically, it's one of the most advanced in the world.
A bit controversial for its forms and style. It also cost more than €500 million, although this was donated by the company Mærsk (which is Danish). These 500M€ were deducted from taxes, so we imagine the money that this gentleman should owe to the government to come out profitable better to pay 500M€.
History/curiosity:
Møller, the man who paid for the opera and head of the Mærsk company, was a very conservative type of ideology. He personally supervised the plans together with the commissioned architect Henning Larsen.
The architect, fed up with Møller pulling back many designs and supervising everything he did, kept an ace in his sleeve for the end: At night when the opera is lit, the flag of Christiania, the lawless hippie quarter, is formed. This can be seen from the other side of the channel.
Now, every night Mr. Møller sees his work of more than 500 M€ or the people who usually go to the opera, are facing the great flag of Christiania. Henning Larsen's good, not very conservative ideas showed worldwide that he who laughs last laughs best.
Another interesting fact: in Denmark the Redbull Cliff Diving tournament takes place from the roof of the opera:
The headquarters of the Royal Danish Library
They call it the black diamond building that reflects the sea. It's interesting to come in. The building you see is an extension of the old building behind it.
Although Denmark is a fairly small country, it is the 10th largest library in the world. Please note that number 11 is the National Library of Madrid.
The building has a modern functional architecture and is inclined to take advantage of the light reflected from the canal. We were recommended to go inside, especially in the old part of the library, is film, with wood finishes and many old books.
Amalienborg Palace
It is a complex of buildings that currently serves as the residence of the Danish royal family. They were originally built as houses for nobles and wealthy families, as the outer areas of the city were dirty. When Christiansborg's palace was burned down, the royal family "asked" the aristocrats to give them the houses as residences.
The buildings are connected to each other by means of tunnels and it is not possible to visit the interior of any building. You can only enter a small museum on office tables or work of kings.
You can visit the large square Amalienborg where you can see a large dome in the background. This dome is reminiscent of St. Peter's Basilica in Rome, and is still the largest dome basilica of all the Nordic countries.
The change of guard every day at 12 o'clock, even if you don't expect anything of the other world like London. The procession starts at Rosenborg Castle at 11.30 am to Amelienborg Palace and the change of guard takes place.
Small castle of Rosenborg
It is located in the King's garden (Kongens Have), very frequented by locals, especially in good weather. Barbecues, sunbathing with your blanket, picnic, etc.
It's Renaissance in style and just over 400 years old. It was built as the summer residence of King Christian IV.
Inside are the crown jewels in a museum. The best known are the 3 life-size lions
To enter you will have to buy a ticket for the museum "Parkmuseerne" which is a total of 6 museums for 195DKK ~26€.
Church of El Salvador
It's a baroque building built in 1696, a bit on the outskirts, from where you have a very good view of the whole city. Some say the best in Denmark…
Going up to the top can make you dizzy, as the railing is small and the wind is very noticeable. It's about 450 steps, no elevator!
The top of the tower is badly built as it goes up counterclockwise. What's the problem with that? That the swordsman defending the tower catches his sword from the inside, assuming he uses the right hand.
In total it has 48 bells and very peculiar melodies are played.
They close at 18.00 and the prices are 50 Crowns ~7€.
Rundetårn (The Round Tower)
This old astronomical observatory tower built in the seventeenth century is quite curious, for the fact that it has a helical ramp inside to climb in horse-drawn carriages.
A total of 210 meters of ramp with 7 and a half turns to get up where there is a viewpoint. One of the best views of the city (38 meters). More info.
Ticket 25 crowns (~4€)
It's at 52A Købmagergade Street
The elephant bridge and Carlsberg factory
This late 19th century modernist building, which housed the Carlsberg brewery. At the entrance is the Elephant Gate, the famous bridge with 4 elephants (2 on each side).
You can visit to taste the beers that some are still being produced there, now turned into a cultural center.
Inside is what they say is the largest collection of unopened beers in the world. All kinds of bottles for a total of 22,000 beers!
In 2019 it will be closed for works all year round!
Entrance fee 100 crowns (~13€). For the 80 Coronas extra beer tour or a 60 Coronas cultural tour, both 35 minutes long.
The Øresund Bridge
It is the tunnel bridge that enters the water and joins the Strait of Oresund, connecting Copenhagen and Malmö (Denmark and Sweden).
It's quite recent… you've only been joining the two countries for 15 years. It has a lot of daily traffic, as many people live and work in different places.
To cross the bridge and go to Malmö, from the central train station (København H) they depart every 20 minutes and take 35 minutes. On the Danish Trains page you can see timetables, prices and tickets.
It takes between 40 and 60 minutes to cross the bridge by car and pay a toll of around 360 crowns.
Aquarium "The Blue Planet"
With surprising architecture and modernist design, this large aquarium was completed in 2013, being one of the largest in Europe. Den Blå Planet is the Danish National Aquarium and is located in the Kastrup district.
Timetable from 10 am to 5 pm, except Mondays until 9 pm. Price 170 Crowns (~23€) More info
Kastrup Sea Bath (Søbad)
This public "swimming pool" in the sea was what I enjoyed most in Copenhagen. It is a circular wooden structure, with different stairs, platforms and jumps of up to 5 meters to bathe in the sea. I went in September and the water was already cold, 17°C!
Although if you like hot water, there is an open-air Danish sauna in Copenhagen harbour, called CopenHot, which looks very good.
It's in the Kastrup neighborhood south of the city. In this area there are some dunes and a promenade very pleasant to take a bike ride ideally, although you can also go walking.
Admission is free, there are changing rooms (no showers) and a lifeguard. It can be reached by Metro to the stop "Kastrup"
Eat
A classic of Danish cuisine: Smørrebrød, a kind of open sandwich, black bread canapés with a butter base and many things on top such as fish, herring, prawns, etc.
Danish cuisine in general is based on lots of pork and potatoes, also abound smoked. Herring with a beer is a popular combination for pecking at bars.
On the street you will find many hot dogs to eat on the street.
Mealtimes are culturally established, especially dinner at 18h when the streets are lightly emptied of Danes. Although restaurants serve meals until 21.30.
The salty liquorice, typical in the Nordic countries especially in Finland. Very rare and strong taste.
The restaurant Nomawas for a few years the best in the world, has now fallen a few places but is still up. The price is about 225€ the menu without wine. Although it is complicated to reserve a table (and also to pay it… ), since it is necessary to do it in advance.
Public transportation
Transportation throughout the city is well organized by subway, bus or boat. Although the subway doesn't reach many parts of the city.
The Copenhagen subway is self-driven, there are no drivers. 2 more lines are under construction since 2011 and … every year its opening is postponed. It is currently planned for July 2019.
The boat-bus is an economic means of getting around the city. It costs the same as a regular bus and you can enjoy a journey along the canals without paying for expensive tourist boats.
A transport ticket costs 24 Crowns (~3,20€) for 60 minutes. For a full day (24 hours) it is 80 crowns (~11€) while the 3-day pass is 200 crowns (~27€).
Public bicycles
There is a public bicycle rental system of the city council. His name is Bycyklen. You will have to become a Bycyklen, associating to a card and you will be able to take up to 2 bikes for each user.
Bicycles are loaned and returned at stations throughout the city. It's quite easy to use and intuitive.
The price is 30 Crowns per hour (~4€). These bikes are electric and also have a screen on which you can navigate with gps to move easily through the city. Note: the first 3 minutes are free, this is so that if when taking out a bicycle was defective, to be able to return it and to take another one without additional cost.
The other option is to rent a bicycle in one of the physical stores for days. Prices for single bikes range from 100-120 Crowns per day (~15€), although there are always discounts if rented for more days.
Airport
The city is opening up to Europe. Copenhagen airport has many low-cost flights to many European destinations.
I bought my round-trip ticket to Berlin for 40€ round-trip with Easy Jet.
Other companies with good prices to Copenhagen are Ryanair, Norwegian, Vueling, SAS…
Free WiFi at the airport
How to get from the airport to the city
Copenhagen airport is very well connected to the city by subway or train. Every 4-6 minutes during the day and every 20 minutes at night. More info.
The trip costs 36 DKK (~5€) and is worth 75 minutes of transfers. It can be purchased in the machine with coins or card.
Rent a car from Copenhagen airport
It is a good option to move through Denmark, but NOT through Copenhagen city. Also in the city it is very difficult to park for free. Only Saturdays afternoon or Sundays is free, the other days you will have to pay.
To find the cheapest car, compare the 6 companies at the airport: Budget, Avis, Sixt, Enterprise, Alamo, Hertz. Der these Enterprise and Budget had the best rates. We pay 86€ with Budget for a small car for 5 days. You can find here in the car search engine the cheapest cars from Copenhagen airport
Copenhagen Guides on paper
If you are one of those who like to read on paper guides, here are some of the best like Lonely Planet or Alhenamedia both in Spanish:
Surroundings Copenhagen
Kronborg Castle
It was this famous castle that inspired Shakespeare to write his play Hamlet. It is of Renaissance style, beautiful, imposing looking at the sea towards Sweden and that is very well preserved, I suppose due to the continuous restorations. Now, since 2000, it is part of UNESCO's heritage.
It is located 50 km north of Copenhagen, in the village Helsingør (or Elsinor in Spanish), which is also worth a visit, as it retains its streets, port and very nice to walk.
Despite being relatively far from the city, it is a place not to be missed, and that most travelers visit on a 1/2 or 1 day tour. In total about 50 minutes by train.
Timetable from 10 to 17:30h and price is 90 Crowns. Free thematic guided tours every 30 minutes (English). In total 4 tours of about 30 minutes duration, some even theatrical.
At the end of the road there is a free parking 200 meters from the castle, in the port. Search Google as "free parking".
You can cross by public ferry to the Swedish city of Gothenburg. On the way, from the Odensen Strait it is said that the views of the fortress with the castle behind it are impressive, although we did not have enough time.
Roskilde: Viking Naval Museum and Cathedral
Roskilde is a village (or district of Copenhagen) about 6 km to the west.
There is the first Gothic cathedral built in brick. A total of about 800 years of history have made the cathedral appear on UNESCO's list. Although I don't think it's that impressive, I do think it's worth a visit if you stop by. It is also the mausoleum of the royal family.
The Naval Museum is the best known and one of the reasons why travellers go to Roskilde. The museum is basically about Viking ships and what techniques they used to build them.
Yes, the Vikings existed and here you can learn more about their naval history. The museum itself has a workshop where they reconstruct replicas and study construction techniques.
I liked that in addition to the exhibitions there are many workshops of all kinds, activities and talks.
One of the activities we did was to go for a walk around the fjord a replica of a traditional boat. They explained how to paddle, hoist the sails, etc. In total about 100 crowns per person for a good activity, but not essential.
When you enter, in a small cinema they put you an introductory video, that if you ask them they can put it in Spanish (duration 15 min.) very useful to be located in the museum.
The museum can be seen in 2 hours and 3 hours with tranquility, although if you go with children you can spend the whole day between workshops, activities and games.
Timetable from 10 am to 5 pm and prices between 90 and 130 Crowns. In the area near the museum there is a residential area (behind the gas station) where it is easy to park for free almost at the door.
Something more about the Vikings:
There are many myths about this people
: They were people who sowed terror between the 8th and 12th centuries in northern Europe. Known for their looting and being good sailors. It is estimated that as early as 3,000 B.C. they already used some small boats to go to neighboring villages.
They assaulted cities based on the factor of surprise and speed.
One of the myths is his great physical power and stature. Although according to archaeology they were a little higher than the European average of that time, although not much higher.
There is also no proof that they wore helmets with horns. This fact appeared in the nineteenth century from a romantic novel. They used axes a lot as weapons.
Dragor
Dragor is a fishing village about 7 km from the airport. Its winding streets, a promenade by the sea and the fishing port are worth a visit. The village, which dates back to the 14th century, has a special charm.
We stopped at Dragor to say goodbye to the trip, just before going to the airport. Although it rained a lot that day, and it is not pleasant for a Murcian that we are not accustomed to water!
Other places to visit
Since neither time (nor money is infinite), we didn't have time to see everything we would have wanted… and I left places in the inkwell. Here I name some of those places in case you might be interested or call attention to a visit:
Møns Klint
They're cliffs and fossils. It is located on the same island of Copenhagen, 60 km to the south. The photos are impressive, I encourage you to do a google search images.
Malmö (Sweden)
Malmö is perhaps one of those typical day trips when visiting Copenhagen. We prioritize other sites, and in the end we don't get to go. It takes just over half an hour to get there by public transport.
Highlight the main square Stortorget with a sculpture of a horse ridden by King Karl X Gustav. Also the town hall (Rådhuset), which is the most striking building with Dutch Renaissance style. Lilla Torg Square is Malmö's second main square and means "little square".
The Turning Torso building is the tallest skyscraper in the Nordic countries. Completed in 2005. In the purchasing power zone. You can't go up because they're private buildings and offices.
Bornholm Island
This island south of Copenhagen contains some nature, ruined lighthouse, waterfalls and beaches (Dueodde Strand). It is reached by ferry and is a popular holiday destination among Danes.
It may be okay to plan 2 or 3 days on this island.
Dyrehavsbakken
It is the oldest amusement park in the world (according to its website) dates from 1583 and is surrounded by the forest of Dyrehav. 10 minutes by car north of Copenhagen.
Entrance is free, although if you want to ride it is between 200 and 270 Crowns (28-35€). It's only open in summer
Kalundborg
This town is located to the west, about 15 km from the city. It stands out for having the only cathedral with 5 towers. There's not much special about the town, except for the cathedral.
Our Plan for 5 days in and around Copenhagen
Friday
Arrival in Copenhagen at 13:00. We picked up the car at the airport and transferred to Airbnb. In the afternoon we did the FreeTour of Cristianhavn and then we visited the Tivoli park where we had dinner.
Saturday
In the morning (10am) we made FreeTour through the center. Then we visited the library inside, rented a bike and went for the dunes and the promenade of Kastrup. Then a bath in the sea pool (Søbad). We had dinner in the neighborhood and had a drink in some bars.
Sunday
Morning check-out and visit to Kronborg (village and castle). We ate some sandwiches in front of Frederiksborg Castle, although we didn't go in. Then we visit the Viking Museum of Roskilde until it closed at 17h and then a walk through the cathedral.
In the evening we arrive at Odense to sleep and make a small nocturnal visit

Monday
Day tour of Odense and Egenkov Castle. In the afternoon we try to look for some beautiful lakes without success.
At night we sleep in a motel near the airport on the coast. Walk through the dunes before sunset.
Tuesday
We got up in the rain. We passed briefly by Dragor and from there straight to the airport before 12h
What would you change? Which I wouldn't do again if I had to repeat the trip:
[phoe-icon name="fa-times-circle-o"] go to Odensee only for 1 or 2 days. The toll was 240 DKK each way plus gasoline. We lost more time on the journey that we could have taken through Copenhagen as we also left some things to see that was of interest. The problem was that we already had the accommodations and the car booked.
[phoe-icon name="fa-times-circle-o"] Rent a car. To go to Kronborg, Roskilde or Federiksborg could have gone by train. With the car we had problems looking for parking in the city and we had to pay a parking for 200 DKK.
This is all I can tell you about the wonderful Copenhagen! Any comment is more than welcome!
Good route!